Let Us Print!
Formed by a consortium of seasoned specialists, both domestic and international,
NYMetro Promotion & Printing provides a wide range of customized print products, services,
and assistance, thereby promoting their client's image of excellence.
Our team is committed to customer satisfaction through its ability
to offer product and budgetary flexibility without risking quality.
We are committed to YOU, and love what we do. This proudly distinguishes us from
the competition.
Featured Item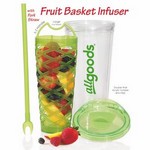 20 Oz. Fruit Basket Infuser Tumbler
Fruit Basket Infuser double wall acrylic Tumbler with fork straw. Bring out the best in your company's presentation and logo. Great for High Schools, Colleges, Cheerleading Camp, Dance Studios, Sport ...

Signature Showrooms